THE MSC NAPOLI
THE MSC NAPOLI
The MSC Napoli was a United Kingdom flagged container shipped with a capacity of 4,419TEU's. While en route from Belgium to Portugal, on January 18th, 2007 during European windstorm Kyrill, severe gale force winds and huge waves caused serious damage to her hull, with a crack on one side as well as a flooded engine room. At that stage the vessel was 80km off the cost of The Lizard, Cornwall.
During the course of the day the crew sent out a distress call. Not long afterwards, the captain ordered the crew the abandon ship into one of the lifeboats. They were out at sea for several hours before all 26 crew were rescued by helicopter.
On January, 19th the ship was taken under tow by the salvage tug Abeille Bourbon, later joined by by Abeille Libertè. It was decided to tow the vessel to the safe haven of Portland Harbour, Dorset. The flotilla proceeded up the English Channel with the MSC Napoli increasing its list and with strong winds forecast refuge was taken in Lyme Bay. The ship's deteriorating condition raised doubts as to its ability to withstand the rigours of the journey to Portland. A decision was taken to deliberately beach the ship in Lyme Bay.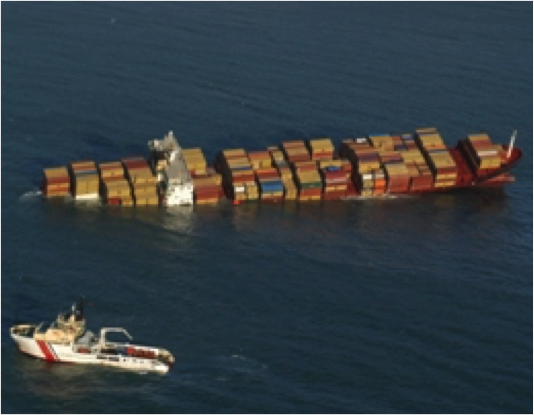 The "MSC Napoli" – The English Channel – 2007
After containers from the wreck began washing up at Branscombe, around two hundred people ventured onto the beach to scavenge the flotsam, despite warnings from the Police.
During the course of the week beginning 22nd January, attempts were made to remove the oil and other hazardous material from the vessel. Also salvors started with clearing up the beach and removing all 2300 containers and flotsam. A large barge equipped with two cranes lifted off the containers and placed them on board a shuttle barge which transported the containers to Portland. At the beginning of March 2007 all on deck containers were removed and on the 17th of May the last container was discharged.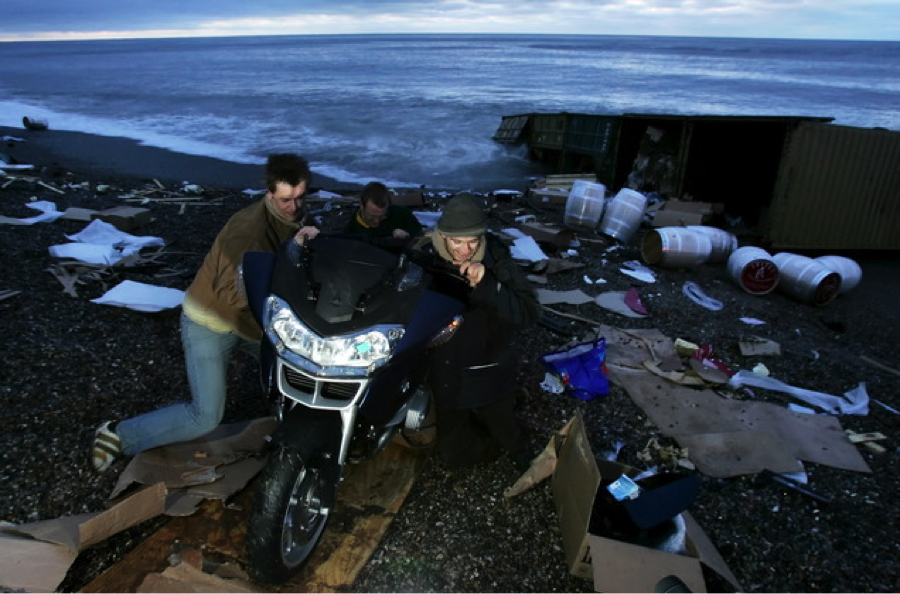 "MSC Napoli" Looters
All the containers were inspected in Portland. Minor damage was found to cargo in on deck containers but the majority of the below deck containers were severely affected by seawater, with most of the cargo declared a total loss.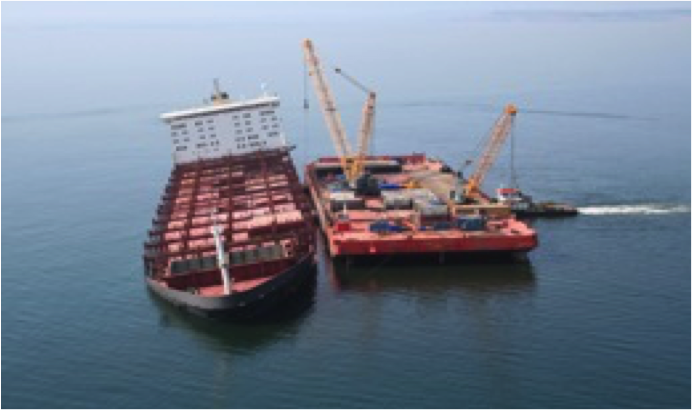 Barge with two cranes to offload containers from the "MSC Napoli"

On the 9th of July the MSC Napoli was successfully re-floated but was immediately re-beached as a three metre gash was found in the vessel's hull. A decision was made to break-up the vessel using explosives after a previous attempt to use the spring tides failed to break-up the vessel apart. Despite the explosives the MSC Napoli remained in one piece. Subsequently, two tugs at either end of the ship tried to pull it apart. Finally, on the 20th of July the vessel was split by means of a third explosion.
In August 2007 the bow & stern section was taken to a shipyard in Belfast for disposal and recycling.